The Full Trail- Twin Coast Cycle Trail 2 Day Experience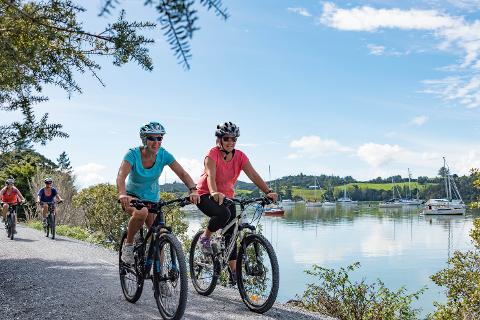 Duration : 2 Days (approx.)
Location: Paihia, Northland
Product code : PYQEZQ
Summary: One of our more popular
options. Experience the full beauty of the Twin Coast Cycle Trail over 2 days.
Ride from Kaikohe to Opua (45km) on the first day, taking in the train tunnel,
swing and rail bridges and historic towns. Depart again in Kaikohe for the
second day, riding through 44kms of awesome scenery and backcountry to finish
down in peaceful Horeke on the West Coast. Trips depart from Paihia with
accommodation in Paihia available. This cycle trail is predominantly off the
main road, an easy gradient and achievable by most levels of fitness so great
for all ages and abilities



All our
trips include quality full suspension bike hire- the ultimate in luxury riding,
transport for pick up and drop off, padded gel seat (to make it even more
comfy), helmet, map, repair kit, pump, lock and all trail advice
Day 1: Depart from Paihia in the morning, and get dropped at Kaikohe in our
with our purpose built mountain bike trailer and shuttle van. Today, ride the
trail all downhill from Kaikohe to Opua (45km) taking in the train
tunnel, swing and rail bridges, traditional maori community buildings (marae's)
and historic towns. Spend some time for lunch in historic Kawakawa, checking
out the famous Huntertwasser Toilets and Vintage Railway and Steamtrain running
through the main street in town. This train operates in the weekdays and some
holiday, so may be possible to add to your trip. After your break, follow the
meandering Kawakawa River through one of the most scenic sections of the trail
to the seaside town of Opua. Time for another coffee or bite to eat before your
shuttle takes you back to your accommodation or PaIhiaMTB HQ in Paihia for a
well deserved relax and dinner out in one of the many eateries in town. We
often ride this part of the trail in this direction to allow for an easier
downhill gradient, and the wind to be blowing behind you...it can be a bit of a
tough ride in the opposite direction!


Day 2:
Depart from Paihia in the morning again, heading for Kaikohe for the second day
of 44km riding.. This time, you will be riding in the opposite direction (but
still downhill!) all the way past picturesque Lake Omapere on the old Rail
Corridor to Okaihau for a rest stop. Carry on riding down through the beautiful
Utakura Vally, following bubbling streams through backcountry farmland and
untouched rural New Zealand. Some of these sights are 'only in Northland' type
views- spot the cows! Stop along the way for a break at the lilly-pond or at
one of the many picnic tables or patches or grass dotted along the route..
Finish your ride on a 2km boardwalk over the mangroves before a cold drink or
brew at the famous Horeke Tavern, right on the edge of the Hokianga Harbour. It
is well worth to continue riding a further 3km to the Mangungu Mission Station
at the end of the Twin Coast Cycle Trail. Your shuttle will take you back to
Paihia from here at Horeke.